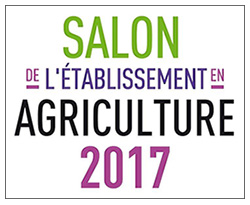 Would you like to:
Start up or take over a farming operation;
Work in the field of farming;
Learn about the possibilities of training in agriculture;
Undertake the transfer of your farm?
Then mark Wednesday, February 15, 2017 on your calendar for the Salon de l'établissement en agriculture de la Chaudière-Appalaches, in Sainte-Marie.
Three guest speakers will be presented throughout the day:
Launching a farming operation: from the idea to the project completion
Becoming an entrepreneur: what issues are involved for aspiring farmers?
Key success factors to achieve a start-up project that is out of the box
Admission is free and no registration is needed.
More information on the day's program is available on the website at: Web du ministère de l'Agriculture, des Pêcheries et de l'Alimentation.