La Financière agricole du Québec offers you the possibility of registering for Zero Paper (paperless service) through your on-line file. By registering, you will no longer receive correspondence by regular mail, except for your Agri-Invest and Agri-Québec deposit notices and your claim documents (e.g. notice of assessment), if you choose to keep receiving those in paper form.
Zero Paper is impressive! You will be informed by e-mail when a new document is deposited in your electronic mailbox.
Zero Paper enables:
Fast, safe access to your correspondence;
Availability of your documents at all times;
Regrouping of company documents to facilitate management;
Quick printing and saving in your computer if need be.
Registering for Zero Paper can be done in a few simple steps!
How to register?
The person responsible for managing access to your company's online file can complete this registration. Simply follow the steps below.
Access your on-line file;
Click on your name at the top right of your screen;
Click on the Gérer l'inscription au Zéro Papier (manage my zero paper enrolment);
Follow the instructions and with just a few clicks your registration is complete.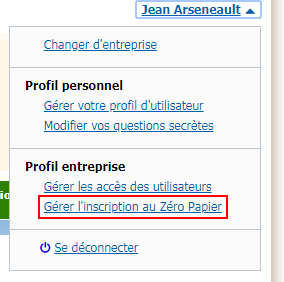 For more information on Zero Paper, do not hesitate to contact on-line file support.